World Peace Prayer Ceremony
People all over the world are joining together to bring peace to our hearts and our planet through the prayer May Peace Prevail on Earth. This prayer for world peace carries a message of great hope and healing. It transcends barriers of nationality, race and religion to unite humanity in a call for the common good of all life on Earth. All the Flags of the World in Prayer is sponsored by the World Peace Prayer Society.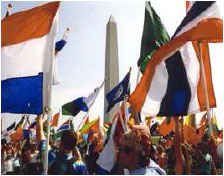 The World Peace Prayer Society was founded in 1955 by Masahisa Goi (1916-1980). Mr. Goi grew up with a great fondness for the arts, and he was a gifted poet, writer and singer. Above all, however, he dedicated his life to humanity. The devastation caused by the Second World War affected Mr. Goi in a profound way. He searched for ways to respond to the desperate cry for peace, not only in Japan but around the world. He prayed and asked for guidance so that he might be of service for the betterment of humanity. Through steadfast commitment and faith, Mr. Goi attained much insight into the spiritual nature of humankind and he discovered the universality of the prayer May Peace Prevail on Earth.
Mr. Goi came to understand that words, thoughts and actions are alive: that they radiate vibration and energy. He realized that the thoughts and actions of each and every individual influence the destiny of humanity as well as that of plants, animals, and all creation on earth. This was the beginning of the World Peace Prayer Society -- a genuine peace movement to spread the message and prayer May Peace Prevail on Earth. Mr. Goi believed that as more and more people are touched by this prayer and begin to live and act in the spirit of this message, a great transformation would take place in global consciousness, bringing about peace and harmony in our personal lives as well as in the world at large.