:
Release of the Butterflies Ceremony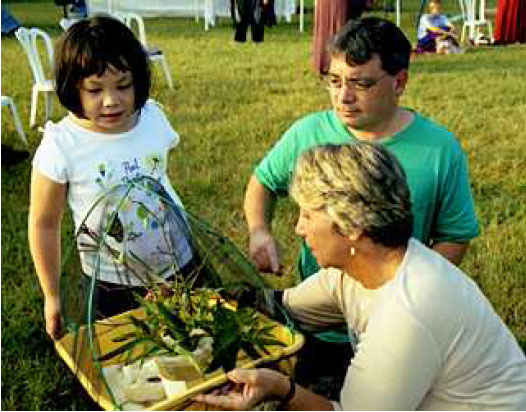 Suzanne Clarke, steering committee, describing the release of
the butterflies to Marina Chen and her father, Michael Chen
The purpose of the ceremony of the release of the butterflies is to include some of the true mystery of life, the life cycle of the Monarch Butterfly. The Monarch is really quite marvelous, the way such a remarkably delicate creature can find its way back to a single mountain area in Mexico -- by the millions each year. The Monarch that leaves our hands flies directly back across the plains of Texas and then across a narrow strip of land where it must feed on wildflowers en route to Mexico. The delicate Monarch is at the mercy of Nature -- hurricanes, thunderstorms, droughts, let alone the destruction of meadow habitat that has destroyed the milkweed it eats. Another remarkable thing is that our Monarchs are very different from other ones because it does not immediately mate, lay eggs, and die as all of the other Monarchs do. The ones that emerge from the chrysalis (not a cocoon, which is what a moth has) in September does not have ripe sex organs because Nature wants it to over winter in Mexico, hanging by the millions from the trees in the mountains. In
March-April, the sex organs mature and they move slightly northwards on their journey North in search for milkweed. Only then do they finally lay eggs and die. Those offspring then carry on the move northwards on approximately a month life cycle. We even saw many Monarchs in Pipestone when we were there. Then in August they are back here in the DC area and there we go again.
So, the release for me is to honor and share the Mystery with others. I love sharing them with children especially because I love teaching them to take the time to look, care, and treasure these little creatures. Last time many of the Native American adults and children came over to ask me about them. I am so grateful for the opportunity to share them with everyone.
Suzanne Clarke